Credit Counselling Singapore Marks 17 Years of Social Service
2021 marks Credit Counselling Singapore (CCS) 17th year in assisting distressed borrowers address debt issues. CCS was officially launched on 14 October 2004 by Mr Tharman Shanmugaratnam, who was then the Minister for Education and Deputy Chairman, Monetary Authority of Singapore (MAS).
Over the years, CCS has become a trusted partner with banks and financial institutions in helping indebted borrowers restructure their debts. What started as a trial project by volunteers to provide credit counselling, CCS has evolved into a leading charity that fosters financial resilience and a trusted organisation for all matters related to debts.
With a dedicated team of full time staff, we have counselled over 35,000 individuals and put up more than 24,000 debt repayment proposals under our Debt Management Programme (DMP)(as of September 2021).
The last two years were especially difficult for many people due to the COVID-19 pandemic. We are humbled that we were able to contribute to the national effort spearheaded by MAS and in collaboration with the banking and financial industry, to help individuals and small business owners tide over this difficult period.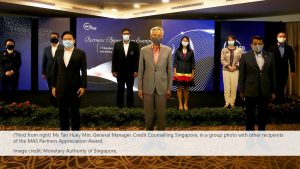 CCS was recently acknowledged during the MAS 50th Anniversary Partners Appreciation Evening for our efforts in contributing to the financial resilience of Singaporeans. Watch our General Manager, Ms Tan Huey Min, receive the Partner Appreciation Award from Mr Lawrence Wong, Minister for Finance and Deputy Chairman, MAS.
With the support of MAS, The Association of Banks in Singapore (ABS), Enterprise Singapore (ESG) and the Participating Financial Institutions (PFIs) under the ESG loan schemes, the Sole Proprietorships and Partnerships Scheme (SPP Scheme) provides assistance to viable sole proprietors and partnerships seeking to restructure their business debts. Find out more about CCS Business Debt Management services.
Amid the COVID-19 pandemic and plunge in the economy… MAS and the banking, finance company, and insurance industry associations, we put together a comprehensive package of unprecedented credit and premium reliefs. This helped many individuals and SMEs tide over a difficult period of financial stress.

We achieved this together… driven by a sense of common purpose.

Thank you all so much for the support and for stepping up in Singaporeans' hour of need.

~ Mr Ravi Menon, Managing Director, Monetary Authority of Singapore.
This is not the first time that CCS has been called upon to assist borrowers facing financial distress.
In 2015, CCS was appointed to administer the Repayment Assistance Scheme (RAS) by The Association of Banks in Singapore (ABS) to help borrowers affected by changes to credit card and unsecured credit rules. The scheme helped affected individuals pay down the amount of unsecured debt in excess of 12 times their monthly income and avoid accumulating excessive debt.
In April 2020, at a time when the financial fallout from the pandemic had yet to peak, CCS expanded its debt restructuring services to include loans taken from licensed moneylenders, if the borrower has credit cards and unsecured loans from banks. The initiative is a result of collaboration with the Credit Association of Singapore (CAS), which represents most licensed moneylenders in Singapore. Find out more about CCS Debt Management Programme.
CCS is active in public education to promote the responsible use of credit and prudent money management. CCS is also a community partner of the National Silver Academy, offering courses on retirement readiness and mental health awareness for seniors. Find out more about CCS financial education programmes and NSA Courses.
Those facing a debt issue and want to seek help from CCS, should first attend our weekly Debt Management Webinars, where you will learn more about what to do when faced with a debt problem, how to communicate with creditors, what are the common collection actions creditors can take, what are the various debt settlement options are and what is the CCS Debt Management Programme. Click here for schedule.
Borrowers who require further assistance can submit a request for one-to-one financial counselling. Details on the counselling session and instructions on how to arrange for an appointment will be explained during the webinar.
Published 17 October 2021