Understanding Your Credit Report
Health is something that everyone focuses on and wants to improve. It could be in the form of physical, mental, occupational or spiritual health. The COVID-19 pandemic has also left a huge impact on the world, particularly financial strains such as increase in medical expenses or even retrenchments.
On top of existing financial instability and cashflow difficulties, not being able to borrow money when needed may escalate to one to make bad financial decisions and contribute to mental stress. It may also potentially lead to the worsening of one's credit score when the individual relentlessly attempts to apply for a credit facility.
By the end of this article, you will be able to understand the importance of credit health and learn to interpret your own credit report in order to understand your current financial standing.
But first, what is a Credit Report?
A credit report is a comprehensive record of your credit payment history compiled from different retail banks and major financial institutions. Credit Bureau Singapore (CBS) collects these credit data amongst participating members, a list of CBS's contributing Members can be found here. This credit report is mainly used by credit providers to evaluate the likelihood of the consumer repaying before extending a loan out to you. There are many detailed information in the credit report that can help determine a your credit worthiness.
Components of a Credit Report
1.    Personal Details

The first portion of the credit report will showcase an your personal information. Information such as Name, ID number, date of birth, gender, nationality, marital status and address will be reflected.
2.   Account Status History
Account status history will exhibit all the credit facilities you own. Information in this section is displayed on a rolling 12 months basis in the last column (oldest to the most recent cycle to be read from right to left). Closed accounts will have the last 12 months payment status history as at the date of closure displayed for 3 years. Refer to the list below for the detailed description of each status.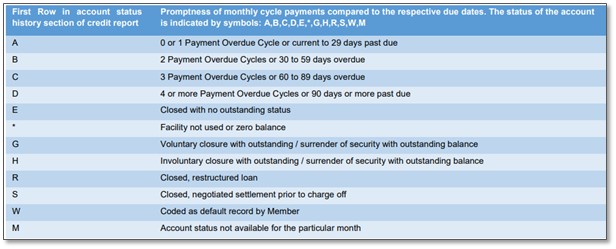 3.   Previous Enquiry

Previous enquiry contains a record of all enquiries made on the individual's credit report. A member of CBS may access your report when 1) you have made a new credit application, 2) periodic review and 3) guarantor checks. These information will be retained in the credit report for 2 years from the date of enquiry.
Depending on the type of enquiry made, it may or may not have an impact on your credit score. For example, too many enquiries for a new credit application within a short period of time may have a detrimental effect on the applicant's credit score whereas periodic and guarantor checks will not affect the credit score.
4.   Default Records

Default records refer to any records of payment default that are reported by members of CBS. The duration of the default record is subjected to the type of default.
Displayed for 3 years from status date: Negotiated Settlement or Full Settlement records
Displayed for 5 years from date of discharge: Bankruptcy Proceedings
Displayed Indefinitely: Outstanding, Partial Payment and Sold off records
5.   Bureau Score

The Bureau Score is a numerical expression that indicates your risk level during the point of enquiry. It is calculated from an algorithm based on information in your current available credit data and is a fluid number which may change from time to time in tandem with changes in your credit information. The Bureau Score ranges from 1000 to 2000 for risk grades AA to HH. The lower the Bureau Score, the higher the probability of default.
Score and non-scored risk grades are further explained in the table below.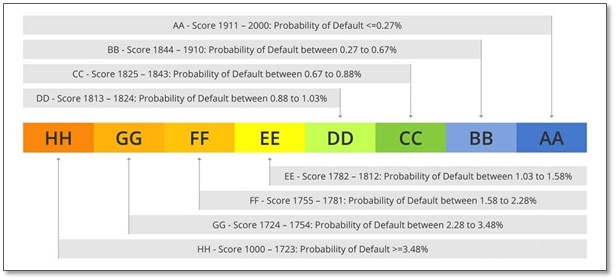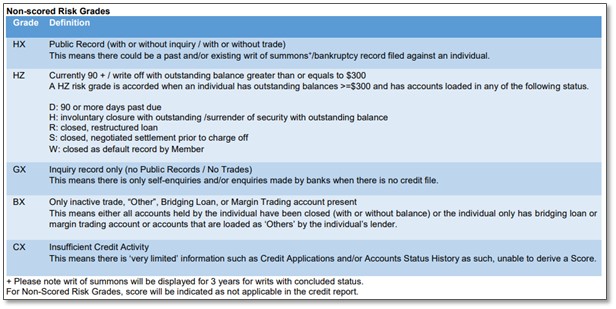 6.   Other Information
On the last section of the report, you will be able to see a detailed breakdown of the Aggregated Outstanding Balance and Aggregated Monthly Instalment for the most recent month, followed by a summary view of the preceding 5 months.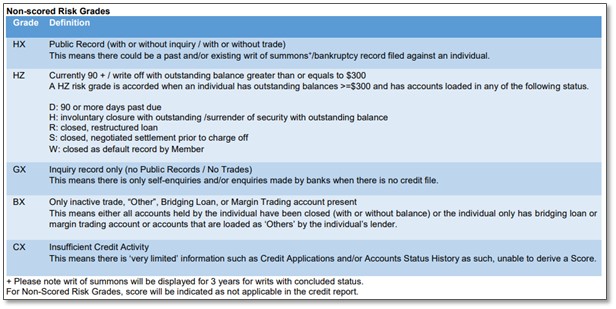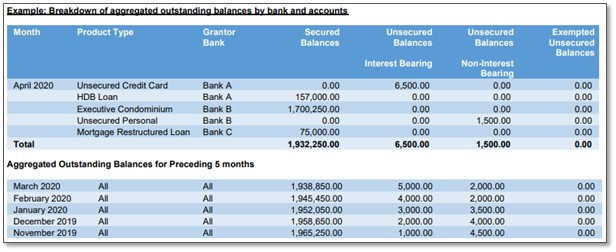 Good credit health is an indication that you are a responsible and financially stable person. It also mirrors you as a reliable and trustworthy individual who honours contractual agreements. A good credit health implies having a notable credit score, which puts you at an advantage over others. This is important especially if you are planning to take up a new credit facility such as Credit Cards or mortgage loan.
A good credit report will be beneficial to everyone in many ways especially if you are in the need to purchase big ticket items or even to settle unexpected expenses like medical bills. We hope that this article has been useful in educating you on how to read your credit report and the importance of having good credit health.
Where can I get a copy of my credit report?
To check your credit score, you can purchase a copy of your credit report at Credit Bureau Singapore. You can also view a sample credit report with detailed explanation here.
Also, be sure follow and like Credit Bureau Singapore's Facebook page @creditbureausingapore for more useful content and tips to maintain a good credit reputation!
This article was contributed by Credit Bureau Singapore.