Riding the Waves of Change Smiling - Mental Well-being (January 2022)
*This workshop was initially scheduled on Saturday 4th December 2021, now re-scheduled to Saturday 15th January 2022.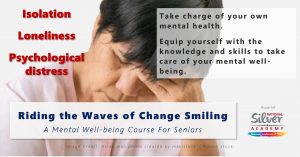 C3A Mental Well-being Curriculum - Riding the Waves of Change Smiling
The COVID-19 pandemic has raised concerns about mental health issues in the community, and in particular, among seniors. According to data from the World Health Organisation in 2017, approximately 15% of adults (aged 60 and over) suffer from a mental disorder.
"Riding the Waves of Change Smiling'' is a 6-hour workshop that introduces seniors to mental well-being and common issues that affect it. The course also provides experiential learning and practical tips on how to promote and maintain mental well‐being, as well as build one's resilience for successful ageing.
At the end of the workshop, participants will:
1.   Be aware of common mental well-being Issues faced by seniors.
2.   Know of approaches, techniques, and resources to prevent and manage these common mental well-being issues.
3.   Acquire a positive outlook toward ageing.
---
Credit Counselling Singapore is proud to be a community-based organisation providing this Mental Health Course for Seniors, developed by the Council for Third Age (C3A) / National Silver Academy NSA).