Retirement Ready - Am I there yet? (12 Jan 2022)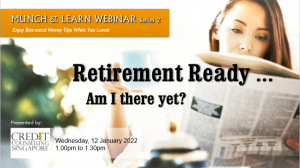 Retirement is the stage in life when you stop working for a living and there will be no more income from employment. 
Have you thought about where your retirement income will come from?
Is it too late to start planning for retirement if I'm already in my 40s or 50s? 
Is it too early to plan for retirement if I'm just in my 20s or 30s?
Let's find out together on Credit Counselling Singapore Munch and Lunch webinar.
Enjoy bite-sized money tips as you munch your lunch.
---
After successful registration, you will receive an email with instructions and a link to join the webinar by Zoom or Facebook Live.  
To join the webinar, click on the joining link provided in the event confirmation email 5 minutes before the scheduled start time of the webinar. 
You may need to check your Spam or Junk mailbox for the email.  
Email education@ccs.org.sg if you did not receive the event confirmation email.
Sold out!