Small Change - Big Result: Setting a Savings Goal (15 December 2021)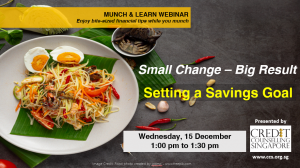 Do you feel like you are not getting anywhere when it comes to saving money?
It seems like there is always some other thing that you needed to buy now, leaving little or no money left to save. ​
Being successful at saving money requires setting goals, starting small and doing it consistently. ​
 Why is setting a financial goal important? How do I set a financial goal the SMART way?​
Let's find out together during Munch and Lunch Webinar Series 2 proudly presented by Credit Counselling Singapore.            
Enjoy bite-sized money tips while you lunch.
---
During the webinar,
1.     You may use a nickname and may remain anonymous throughout the session.
2.     Your microphone and video are disabled.
3.     List of participants is not publicly visible.
4.     You may use the chat box to share comments.
5.     You may also use the Q&A box to ask us questions anonymously.
After successful registration, you will receive an email with instructions and a link to join this Zoom webinar. 
To join the webinar, click on the joining link provided in the event confirmation email 5 minutes before the scheduled start time of the webinar. When you click on the link, no Webinar ID or Passcode are required.
You may need to check your Spam or Junk mailbox for the email.  
Email education@ccs.org.sg if you did not receive the event confirmation email.