How Borrowing Can Destroy or Build Your Future (4 August 2021)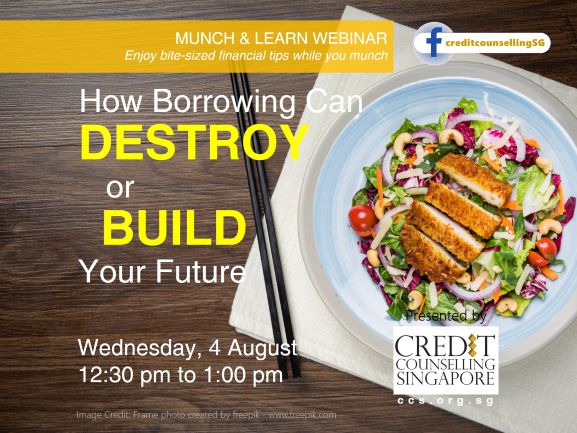 Is there such a thing as Good Debts and Bad Debts?
Interest rates are so low and I should borrow the maximum amount granted as this shows that my credit is good, right?
What are the three important factors to consider when applying for loans?
Let's find out together on Credit Counselling Singapore Munch and Lunch webinar.
Enjoy your lunch while learning useful money tips.
---
During the webinar,
1.     You may use a nickname and may remain anonymous throughout the session.
2.     Your microphone and video are disabled.
3.     List of participants is not publicly visible.
4.     You may use the chat box to share comments.
5.     You may also use the Q&A box to ask us questions anonymously.
After successful registration, you will receive an email with instructions and a link to join this Zoom webinar. 
To join the webinar, click on the joining link provided in the event confirmation email 5 minutes before the scheduled start time of the webinar. When you click on the link, no Webinar ID or Passcode are required.
You may need to check your Spam or Junk mailbox for the email.  
Email education@ccs.org.sg if you did not receive the event confirmation email.