Employment Resilience Webinar (13 April 2022)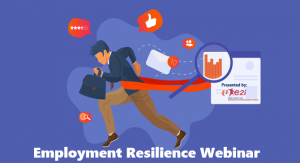 Journeying With YOU – Supporting YOU on your journey towards being debt free
Employment Resilience Webinar
It may be difficult to feel secure and confident about your job, income, career prospect and being relevant in the workforce.
Attend this webinar to find out how you can enhance your employment resilience by taking steps to stay employable through constant learning and upgrading of skills, receiving employment advisory and job placement.
Sign up and attend this webinar presented by e2i and supported by SkillsFuture Advice Southwest CDC .
After successful registration, you will receive a confirmation email with instructions and a link to join this Zoom webinar. If you do not receive any confirmation email, please write in to education@ccs.org.sg 
Sold out!