Skills Future Advice Webinar (21 September 2021)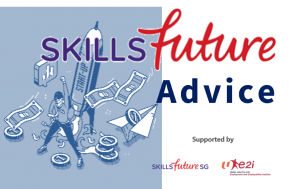 CCS Client Education & Support Programme for DMP Clients presents:
SkillsFuture Advice Webinar
It may be difficult to feel secure and confident about your job, income and career prospect while trying to make it through your DMP journey successfully. Being resilient means taking steps to stay employable through constant learning and upgrading of yourself. Are you keen to find out how to develop resilience and upskilling plans through practical information and SkillsFuture resources to support your skills upgrading and career progression?
Sign up and attend this webinar presented by SkillsFuture Advice Southwest CDC and supported by SkillsFuture Singapore and e2i.
Guest Speaker : Khay Wai (Team Leader, SkillsFuture Advice@Southwest CDC)
About the speaker: Khay Wai has more than 8 years of working experience in both the public and private sector. Prior to her current role, Khay Wai worked in Human Resources with Ministry of Home Affairs (MHA). She realised the importance of how constant upgrading and having relevant skills set can help a candidate during the recruitment process. With that in mind, she looks to advocate the importance of lifelong learning to her audience.
After successful registration, you will receive a confirmation email with instructions and a link to join this Zoom webinar. If you do not receive any confirmation email, please write in to education@ccs.org.sg