Retirement – Are You Financially Ready? (February 2022)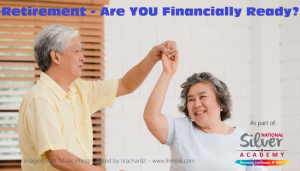 This is a NSA-supported course. Workshops are now open for registration.
Many courses talk about building assets and planning early for retirement.  Well, you might or might not have planned early…
But, if you would like to get a glimpse of your potential financial position when you retire, this 4-hour course intends to offer a snapshot on your financial readiness to retire. With this awareness, you could take actions to align your expectations of retirement with your available financial resources to live a more self-reliant retirement.
This course provides information and guides you through a hands-on exercise to help you
1.   Take stock of your assets and liabilities;
2.   Project your retirement income sources and expenses;
3.   Familiarise with the various government schemes that could provide additional support in retirement and ageing.
This workshop is especially beneficial for individuals aged 50 years and above, own and reside only in a HDB home (and does not own other private properties).